Massive DDoS Attack Against Dyn DNS Service Popular Sites Offline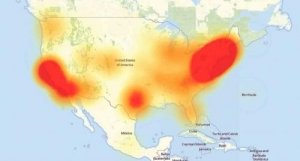 Twitter, Reddit, Spotify, Etsy, Box, Wix Customer Sites Squarespace Customer Sites and bunch of other websites were offline earlier today. That's because someone conducted a massive distributed denial of service (DDoS) attack on the Dyn, a world renowned Domain Name Servers (DNS) service provider.
Not all users were affected equally, however, and sites appear to have been intermittently accessible. To see a full list of sites that have reportedly been affected, click here.
Cyber attacks are getting evil and worst nightmare for companies day-by-day, and the Distributed Denial of Service (DDoS) attack is one such attacks that cause a massive damage to any service.
 It was not immediately clear who was responsible and Gillian Christensen of the U.S. Department of Homeland Security said the agency was 'investigating all potential causes.'
Outages overview
All of these sites and services are reportedly experiencing outages and downtime, either completely or partially.
One more list of affected websites :
MySpace.com
Box.com
Twitter.com
Schoology and Apex
Npmjs.com (Node Package Manager (major javascript package manager)
Roblox.com
Github.com
Spotify.com
Shopify.com
Freshbooks.com
Netflix.com (slow loading time)
The Boston Globe
The New York Times
PayPal
Theverge.com
Pinterest.com
Constantcontact.com
Playstation Network (PSN)
Revcontent.com
Fox News
Elder Scrolls Online
Starbucks rewards/gift cards
Braintree
Zoho CRM
xbox.com
Indeed.com
ActBlue
Grubhub
Kayak
Basecamp
Yammer
Ancersty.com
Mashable
Intercom.com
Disqus
Eventbrite
Wufoo.com
Iheart.com (iHeartRadio)
Business Insider
Imgur
NHL.com
Cleveland.com
Credit Karma
Squarespace Customer Sites
Atom.io
Wikia
Weebly
nimbleschedule.com
Okta
Big cartel
Zendesk.com
Blue Host
dailynews.com
Twillo
Intercom
donorschoose.org
Eve Online
Weather.com
PagerDuty
Recode
Wix Customer Sites
Speed Test
Salsify.com
Yelp
People.com
Wired.com
Genonebiology.com
Guardian.co.uk
HBO Now
youneedabudget.com
time.com
Qualtrics
BBC
Etsy
CNN
Urbandictionary
SBNation
Zillow.com
WSJ.com
Bill.com
WhatsApp.com
MLB.com
Namecheap.com
Chewy.com
Applicant Tracking System and Recruiting Software | iCIMS.com
WorkMarket
Quora
Kijiji
PayCor
My.WPengine
Dyn.com
Netlog
HomeLight
Sterlingbank.com (sign in issues)
ipage.com
isitdownrightnow.com
---
Recently, the Internet witnessed a record-breaking largest
DDoS attack of over 1 Tbps
against France-based hosting provider OVH, and now the latest victim of the attack is none other than Dyn DNS provider.
The attack appears to have started just after 7am ET and appears to have affected huge swaths of the East Coast and much of the Midwest. Level3, which monitors internet activity, shows the extent of the outage.
A sudden outage of popular sites and services, including Twitter, SoundCloud, Spotify, and Shopify, for many users, is causing uproar online. It's because of a DDoS attack against the popular Domain Name System (DNS) service provider Dyn, according to a post on Ycombinator.DNS act as the authoritative reference for mapping domain names to IP addresses. In other words, DNS is simply an Internet's phone book that resolves human-readable web addresses, like thehackernews.com, against IP addresses.
Dyn DNS is used by many websites and services as their upstream DNS provider, including Twitter, Spotify, SaneBox, Reddit, Box, Github, Zoho CRM, PayPal, Airbnb, Freshbooks, Wired.com, Pinterest, Heroku and Vox Media properties.
DDOS Digital Attack Map  – not showing and not working during the attack :
https://threatmap.fortiguard.com/
Is i think there is a problem with iot devices and the only solution is to patch them . To mitigate thous kinds of attacks you need very powerful anti DDos Dos system and as we see today (21 October) there is a problem with that kind of device. Researches will now spend tons of time to learn how to mitigate thous kinds of attacks .
I think couple possible solutions L:
Patch problematic/affected devices
Invent an powerful anti DDos hardware that even an small comapy`s can buy.
Mitigate the attack by learning it out – thous devices have signatures and by thous signatures the prevention hardware on ISP level need to prevent thous kinds of attacks.
Block all traffic from thous kinds of devices – if this iot device is violating in big traffic activity (block IP in ISP level)
UPDATE 1# 22.10.2016 01:12
There is problem with PSN (Play Station Network)
UPDATE 2# 22.10.2016 01:40
Dyn Managed DNS – This incident has been resolved.